Temple Grandin Movie Wins 7 Emmy Awards!!
The very talented cast and crew of the HBO film Temple Grandin received most of the major awards in their catagory! It won for Best Made-for-Television Movie, Best Director, Best Lead Actress, Best Supporting Actress, Best Supporting Actor, Best Music Composition, and Best Camera Editing at the 62nd Emmy Awards on Sunday August 29, 2010.
Temple's unforgettable presence made an enormous impact on the ceremony, as she praised Claire Danes for her amazingly accurate portrayal of her, and acknowledged her mother from the podium.
Temple's latest book The Way I See It encompasses her ideas about dealing with autism.


Time Magazine honors Temple!

Temple was recently named one of the Time Magazine 100 most Influential people in the world. She was recognized for her work as a world-famous animal scientist and autism self-advocate.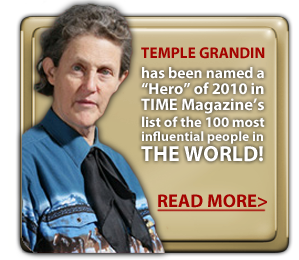 The list, now in its seventh year, recognizes the activism, innovation, and achievement of the world's most influential individuals. Temple is listed as one of twenty-five "Heroes" of 2010. The author of the article, a professor at Harvard University, writes, "What do neurologists, cattle, and McDonald's have in common? They all owe a great deal to one woman...Temple Grandin….an extraordinary source of inspiration for autistic children, their parents—and all people."
As Managing Editor of TIME Magazine, Rick Stengel has said of the list in the past, "The TIME 100 is not a list of the most powerful people in the world, it's not a list of the smartest people in the world; it's a list of the most influential people in the world. They're scientists, they're thinkers, they're philosophers, they're leaders, they're icons, they're artists, they're visionaries. People who are using their ideas, their visions, their actions to transform the world and have an effect on a multitude of people."
Learn more about Temple's amazing story!